Anesthesia Pharmacology Chapter 34: Anesthesia in the Asthmatic Patient and Related Issues

5Case study and analysis: chronic obstructive pulmonary disease
5"A 45-year-old man with cholelithiasis was scheduled for cholecystectomy.

He had a long history of asthma developed dyspnea with only moderate exertion.

He slept on two pillows.

There was no peripheral edema. Arterial blood gases showed the following: pH, 7.36; PaCO2, 60 mm Hg; PO2, 70 mm Hg, CO2content, 36 mEq/liter"
Wheezing and dyspnea raise the possibility of several disease processes including, bronchial asthma, acute left ventricular failure, tumor or angioedema causing upper airway obstruction, endobronchial disease including foreign body aspiration, neoplasms, bronchial stenosis, carcinoid tumors, recurrent pulmonary emboli, chronic bronchitis, eosinophilic pneumonias, chemical pneumonias, and on more rare occasions polyarteritis.

To distinguish asthma from these other possibilities generally is not challenging even though some of these diseases exhibit wheezing and dyspnea.

The patient's history indicating periodic attacks, establishes the episodic nature of the disorder which in combination with coughing, wheezing, and dyspnea favors the asthma diagnosis.

Allergic disease associated with the individual and family is also helpful in establishing the diagnosis.

In an individual who has had asthma for prolonged period, chronic obstructive lung disease may have developed and the patient may exhibit orthopnea (note the requirement of two pillows for this patient) and exertional dyspnea (again note the patient history). Left ventricular failure, reflecting basic cardiac pathology, exhibits pulmonary clinical manifestations such as pulmonary edema.

Differential diagnosis of asthma vs. left ventricular failure include the presence of moist basilar rales, blood-tinged sputum, peripheral edema, gallop cardiac rhythms and a probable history of cardiac disorders.

5Distinguishing between obstructive and restricted lung disease using spirometric methods:

Restricted: in restricted disease such as pulmonary fibrosis or ankylosing spondylitis the forced vital capacity (FVC) is reduced secondary to reduced lung or chest wall expansion capabilities. Since airway resistance will be approximately normal, FEV1 will not be reduced in a manner proportional to the reduced FVC values. The FEV1/FVC ratio tends to be normal or somewhat elevated

By contrast, in obstructive lung disease, for example emphysema, the FEV1/FVC is significantly reduced due to high airway resistance. Furthermore, maximum breathing capacity (MBC) and maximum midexpiratory flow rate (MMEFR) will be reduced early in small airway obstructive disease. MMEFR corresponds to our earlier designation of FEF25%-75%.

Usually FEV1 is > 80% of FVC and the vital capacity should be > 80% of the predictive value. The predictive values will be dependent on gender, body size, and age. The total lung capacity (TLC) will be increased in the obstructive lung disease case but decreased if the diseases restricted. Normal maximum breathing capacity is about 125 l/min and the normal maximum midexpiratory flow rate is > 300 liter/min..

| | | |
| --- | --- | --- |
| Pulmonary Parameter | Obstructive Disease | Restrictive Disease |
| VC | normal or decreased | decreased |
| TLC | normal or increased | decreased |
| RV | increased | decreased |
| FEV1/FVC | decreased | normal or increased |
| MMEFR (FEF25%-75%) | decreased | normal |
| MBC | decreased | normal |

VC: vital capacity, TLC total lung capacity, RV residual volume, MBC maximum breathing capacity

5Lung volume and capacity definitions

Tidal volume: volume of air inhales are exhaled during normal breathing (VT); normal values approximate 0.5L

Inspiratory reserve volume (IRV): maximum gas lion that can be inhaled following the normal inspiration at rest; normal values for IRV approximate 3 L

Expiratory reserve volume (ERV): maximal gas volume that can be exhaled following a normal expiration; normal values for ERV approximate 1 L.

Residual volume (RV) gas volume remaining in the lungs following forced exhalation; normal RV values approximate 1.5 L.

Vital capacity (VC) is the maximal gas amount they can be exhaled following maximal inhalation. While capacity (VC) equals VT + ERV + IRV; normal VC approximates 4.5L

Functional residual capacity (FRC) is the lung volume that remains following a normal quiet expiration. The value should be the sum of RV + ERV. Typical FRC values approximate 2.5 L.

Inspiratory capacity (IC) is the gas amount they can be inhaled from resting expiratory position following a normal exhalation and is the sum of VT + IRV. The normal IC value approximates 3.5 L.

Total lung capacity (TLC) is the lung volume following maximal inspiration. The TLC is the sum of VC and RVC. Normal TLC values approximate 6 L
5Lung Volumes and Capacities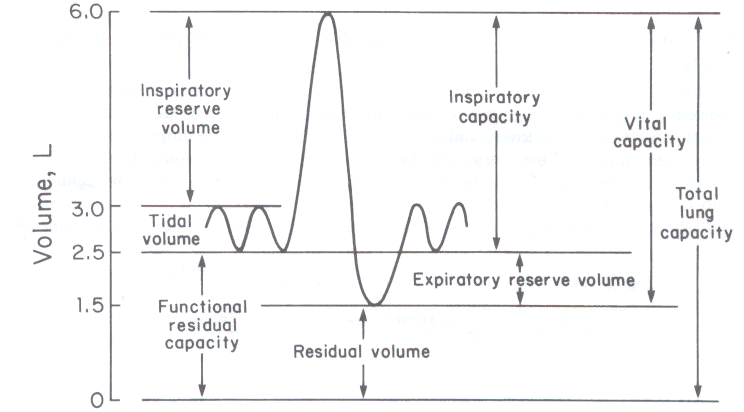 Flow volume loops characterize airflows as a function of volumes; that is, flows and flow volume are plotted concurrently.

The process is initiated by inspiration to total lung capacity followed by a forced vital capacity activity.

Maximal, rapid, inhalation is then performed back to total lung capacity.

The effort dependent part of the loop includes the entire inspiratory components and the expiratory part of the curve near the total lung capacity.

By contrast, the expiratory flow from about 25% to about 75% of the vital capacity is effort independent.

Usually the ratio of expiratory flow to inspiratory flow at 50% of vital capacity (mid-VC flow ratio) approximates 1.

This ratio is useful in the identification of upper airway obstruction.

Patients with pulmonary fibrosis or scoliosis ( restricted defects), exhibit a reduced FVC while retaining a comparatively normal FEV1.

In patients with obstructive lung defect, peak expiratory flow rate, FEF25%-75% and mid-VC flow ratios will be reduced although total lung capacity (TLC) will be increased due to increases in RV.
5,6Normal Subject: Flow Volume Loop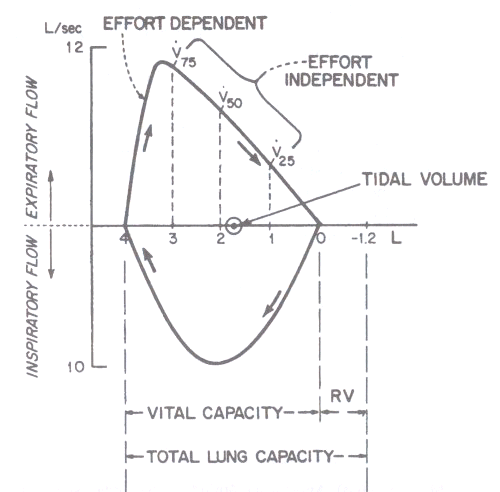 V75, V59, and V25 indicate flow at 75%, 50% and 25% of vital capacity; RV = residual volume

5,6Flow Volume Loops in Normal subjects and subjects with obstructive and restrictive defects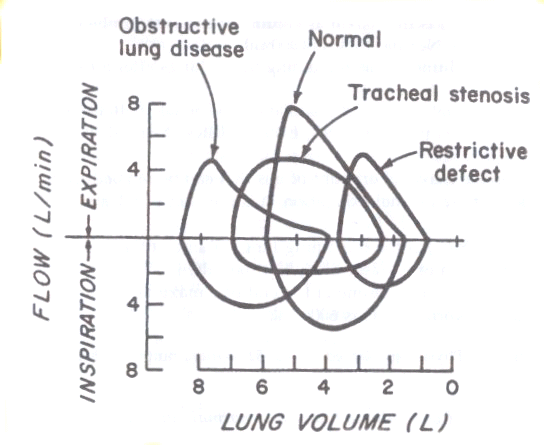 5Closing Volume Measurement: Single-Breath Nitrogen Test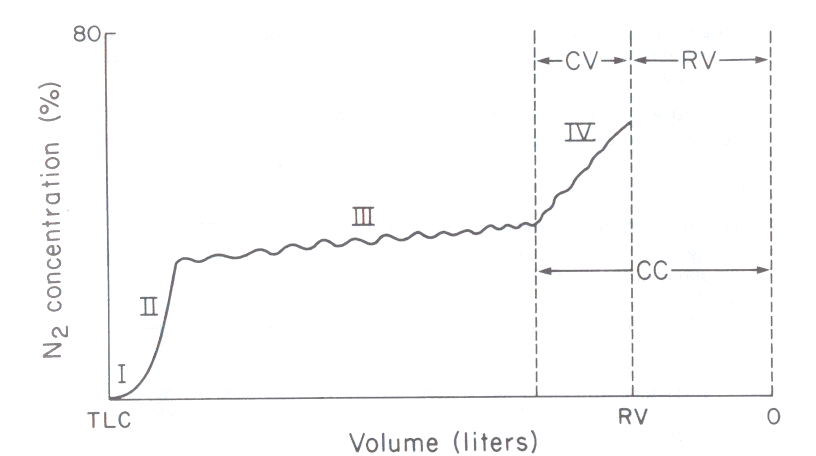 "A. Definition- evaluates characteristics within four portions of the airway, particularly evenness of distribution within the alveoli.

B. Measured with a spirometer and a nitrogen analyzer.

C. The graph plots percent Nitrogen against volume.

D. It measures the following:

1. VC- from Phase I to Phase IV.

2. Closing Volume (CV) - the volume at which closure of the airway begins. Reported as a percentage of vital capacity. On the graph, from the onset of Phase IV to the end of Phase IV.

3. Closing capacity (CC)- the sum of the closing volume added to the residual volume (CC = CV + RV
E. Technique

1. Patient exhales to residual volume (maximum expiration), then slowly inhales to TLC (maximum inspiration) a breath of 100% oxygen.

2. Patient then immediately exhales back to residual volume NOTE: There is no breath hold occurring after the inhalation of the oxygen.

3. The graph can be divided into four phases:
Phase I- the beginning of expiration. This gas is coming from the anatomic deadspace and is pure oxygen. The phase is barely seen on the tracing.

Phase II- seen as the first steep slope on the tracing. The gas is coming from both the bronchial and alveolar areas and shows an abrupt increase in N2%. (50% deadspace and 50% alveolar)

Phase III- the plateau phase in which the gas is coming from thealveoli. The percent of nitrogen changes slowly and evenly producing a flatter line.

Phase IV- the percent of nitrogen once again increases > sharply due to closure of the airway and emptying of the apices (high in amount of nitrogen).

Closing capacity can be calculated by adding the closing volume to the residual volume NOTE: to measure the residual volume, the total lung capacity must first be measured by other methods

Significance

The steeper the slope of Phase III, the worse the distribution of ventilation

Increased CV or CC occurs with

Old age, restrictive disease where there is loss of FRC, early small airway disease, CHF (edema changes the size of airway diameter)

Severe small airway obstruction may show no clear break between Phase III and Phase IV."
1/lung compliance + 1/chest wall compliance = 1/Total compliance
Shunt and dead space describe extreme conditions where either blood flow or ventilation does not meet the other in the lung in a manner to support normal gas exchange. These terms refer not only to extreme conditions but also to describe areas or effects corresponding to improper matching of blood flow and ventilation. Ventilation/perfusion mismatch states which are less extreme than absolute shunt or dead space may be described as shunt-effects or dead space-effects.

Shunt is defined as that part of the cardiac output that returns to the left heart without passing through capillaries of ventilated alveoli.

The oxygen content of mixed arterial blood (CaO2) is determined by the content of oxygen in the blood that reached ventilated alveoli (CcO2), the content of oxygen in blood that bypassed ventilated alveoli (CvO2), and the proportion of the two in accord with the relationship:

QS/QT = (CcO2 - CaO2) / (CcO2- CvO2)

Normal shunt fraction (QS/QT) is less than 0.05 (<5%). Remember CxO2=1.39 x Hb x SxO2 + 0.003 x PxO2

CcO2 represent oxygen content of pulmonary capillary blood, estimated using 100% as the saturation (1.00 in the equation) since PcO2 (pulmonary capillary PO2) is reasonably assumed high enough result in 100% saturation. PcO2 itself is not subject to direct measurement so PAO2 from the alveolar air equation is used. Therefore,

CcO2="1.39" x Hb + 0.003 x PAO2

Dead space: is the inspired air component which is exhaled without being exposed to perfused alveoli

CO2 content of mixed exhaled gas (PECO2) is determined by the 2 content of the gas that came in contact with perfused alveoli (PACO2), the content of the gas that did not come in contact with perfused alveoli, and the proportion of the two.

Assumption 1: no carbon dioxide in inspired air and thus no carbon dioxide in that part of the inspired volume that does not come in contact with perfused alveoli.

Assumption 2: that gas that does contact perfused alveoli will equilibrate to the carbon dioxide content in the perfusing blood PACO2="PcCO2" or arterial blood PcCO2="PaCOv" since arterial carbon dioxide content is not greatly influenced by shunting). The following formula results:

VD/VT=(PaCO2- PECO2) / (PaCO2 PICO2), and assuming that PICO2="0"

VD/VT=(PaCO2- PECO2) / PaCO2 [Normal VD/VT < than <33%).]

Example calculation using the following data:

Hb 10 gm%; PaO2 75 mmHg ; SaO2 97%; Pb 760 mmHg;PvO2 33 mmHg; SvO2 65%;PaCO2 45 mmHg; PECO2 15 mmHg; FIO2 40%

Calculate the shunt and dead space:
5Analysis of the the following arterial blood gas data: pH, 7.36; pCO2, 60 mmHg; PO2, 70 mmHg, CO2 content, 36 mEq/L

FIO2 is needed to evaluate PaO2, If the blood were obtained while the patient was inspiring room air, then the data indicate respiratory acidosis, compensated by metabolic alkalosis and slight hypoxemia. These data would be consistent with chronic obstructive lung disease.

If FIO2 is 1.0, then normal PaO2 would be about 500 mmHg - 600 mmHg. Estimation of PaO2 at different values of FIO2, is made easier with the reasonable assumption that every 10% increase in O2 causes at 50 mmHg - 60 mmHg increase in PaO2. So, if the FIO2 is 0.4 then the normal PaO2 would be 200 mmHg - 240 mmHg.

5 Question: What would be the general preoperative workup orders:

Standard tests would include CBC, serum electrolytes, urinalysis, ECG, coagulation testing, with extravigilance paid to cardiopulmonary system assessment, chest x-ray, pulmonary function testing including determination of responsiveness to bronchodilators and determination of baseline arterial blood gas data. History would emphasize determination of possible allergies and present symptoms.

In patients with asthma, and particular preoperative considerations would include the following:

resolution of any acute or chronic infection by means of antibiotic treatment;

use of bronchodilators to relieve acute bronchial spasm;

chest physiotherapy to promote bronchial drainage and sputum clearance;

administration of diuretics, positive inotropic agents, oxygenation for management of uncompensated or borderline cor pulmonale;

correction of dehydration and electrolyte imbalances;

preoperative familiarization with any respiratory therapy equipment that could be used postoperatively;

efforts promoting patients' smoking cessatoin for at least two months prior to surgery with the aim of improving mucociliary clearance and reduction of sputum production;

in patients who continue to smoke, attempt to have the patient stop smoking for at least 12 hours prior to the procedure to reduce carboxyhemoglobin levels which should improve blood oxygen content promoting release of oxygen in hemoglobin;

used of cromolyn inhalation up to the time to surgery to reduce mast-cell degranulation with subsequent bronchoconstrictive mediator release;

5Question: Delay of surgery of patient has had recent upper respiratory infection?

As discussed previously, respiratory infections promote increased airway hyperreactivity and predisposed to acute asthma exacerbation. In both normal individuals and those with asthma, enhanced airway responsiveness may last from 2-6 weeks. Risk of respiratory complications in children who had experienced both recent upper respiratory tract infection and endotracheal anesthesia appears significantly elevated. Laryngospasm and bronchospasm incidence were increased in non asthmatic children 2 weeks after upper respiratory tract infections.

Probably waiting 2-3 weeks after clinical recovery from upper respiratory tract infections, even the absence of any clinical presentation, appears reasonable.

5Probable medications that asthmatic patient would be taking prior to surgery:

5Question: rationale for ordering preoperative steroids?
Question: should atropine or another anticholinergic be administered to the asthmatic patient?

Although anticholinergic (antimuscarinic) agents may be part of preoperative medication in some circumstances, their use in the asthmatic patient may be problematic because these agents causes mucus drying and may promote airway plugging.

Question: if the patient has a severe asthma attack in the OR any attack occurs before anesthesia induction, should the surgery be postponed or should the procedure continue?

Medical treatment would be initiated to manage the asthmatic attack; however, if the surgery were elective, it would be postponed.

Following postponement, the patient would be evaluated carefully and perhaps prepared more effectively before the next surgical attempt, in order to decrease the likelihood of a repeat asthma exacerbation.

Should the surgery be emergent in nature, following resolution of the acute asthma episode, surgery may be continued along with continued medical intervention to insure management of the airway.

Question: suppose our patient did not have an asthma attack in the OR, what would be the options for anesthesia induction?

Question: why would methohexital be possibly more appropriate than thiopental?

Question: what about propofol, etomidate or ketamine as an agent for induction?

Question: would lidocaine be reasonable to use for intubation?

Question: if the circumstance requires emergency surgery with rapid-sequence induction, what procedure might be used in this patient?

In the emergent setting care must be taken to not only prevent an asthmatic attack but also to make less likely for gastric content aspiration to occur.

Rapid sequence induction and tracheal intubation using propofol, thiopental, or methohexital and succinylcholine would probably prevent aspiration, yet precipitation of severe bronchospasm could occur in the absence of sufficiently deep anesthesia.

In noncardiac asthmatic patients, ketamine (2 mg/kg) may be the agent of choice since it promotes catecholamine release which then causes bronchodilatation.

However, if the asthmatic patient also has ischemic heart disease, fentanyl 5 mcg/kg, 2-3 minutes prior to methohexital administration (1.5 mg/kg) has the effect of airway reflex suppression, prevention of tachycardia and prevention of intubation-induced hypertension.

IV lidocaine (1-2 mg/kg) administered immediately before ketamine or fentanyl and succinylcholine is probably useful adjunct drug, helping to prevent reflex bronchospasm.

A full stomach should be empty using nasogastric tube suction.

Denitrogenation should proceed using 100% mask oxygen.

Pancuronium or vecuronium, 1 mg, should be given 3 minutes prior to succinylcholine administration.

Should the patient have a wheezing attack prior to anesthesia, a loading dose of aminophylline could be used to reduce bronchospasm followed by continuous IV aminophylline infusion. Sympathomimetic administration by inhalation (e.g. albuterol) is probably the first-line treatment for acute asthma attack.

Question: which muscle relaxants might be preferable in this case?
1Stoelting, RK and Dierdorf, SF, "Asthma" in Anesthesia and Co-Existing Disease, 4th edition, Chapter 14, pp 194-204, Churchill-Livingstone, Philadelphia, 2002

2Kingston, HGG, Hirshman, CA Perioperative management of the patient with asthma. Anesth Analg 1984; 63: 844-55. (second sourced from reference 1)

3Roisen, MF, "Anesthetic Implications of Concurrent Diseases" in Anesthesia, 5th edition, (Miller, R.D, editor), Chapter 25, pp 996-997, Churchill-Livingstone, Philadelphia 2000

4Que, JC and Lusaya, VO Sevoflurane Induction for Emergency Cesarean Section in a Parturient in Status Asthmaticus, Anesthesiology, 1999; 90: 1475-1476.

5Yao, F-S F, "Asthma-Chronic Obstructive Pulmonary Disease (COPY) in Yao and Artusio'sAnesthesiology: Problem-Oriented Patient Management, 4th ed, Yao, F-S. F, editor, Chpater 1, pp 3-28, Lippincott Williams and Wilkins, Philadelphia

6Goudsouzian, N and Karamanian, A: Physiology for the Anesthesiologist, 2nd ed. Norwalk, CT, Appleton-Century-Crofts, 1984 (second sourced from ref. 5)

7Respiratory Care: Midland College

8Elton, D.R. " Shunt and Deadspace: 1990