5The incidence of head injury per year in the United States is about 200/100000 which corresponds to about 500,000 individuals exhibiting severe head injury [50,000 die prior hospitalization and the remaining 450,000 requiring hospitalization].

Of the 450,000 requiring hospitalization over 20 percent will exhibit some level of disability following recovery. Head injury is most likely to occur in the age group 15-24 years and is more likely to occur in males (2x-3x greater frequency).

Most of the time severe head injury is associated with other injuries resulting in hypoxia, hypotension, and blood loss.

Automobile (motor vehicle) accidents results in over half of all head injury is and in excess of 70% of head injuries that prove fatal.

5Severe head injury classification utilizes the Glasgow Coma Scale in which neurological deficits are represented in terms of speech, motor function and eye opening.
Modified Glasgow Coma Scale

Eye Opening

Spontaneous 4

To verbal command 3

To pain 2

None 1

Best Verbal Response

Oriented, conversing 5

Disoriented, conversing 4

Inappropriate words 3

Incomprehensible sounds 2

No verbal response 1

Best Motor Response

Obeys verbal commands 6

Localize to pain 5

Flexion/withdrawal 4

Abnormal flexion (decorticate) 3

Extension (decerebrate) 2

No response (flacid) 1
Glasgow Outcome Scale

Outcome

Score

Description

Good recovery (GR)

5

Minor disabilities, but able to resume normal life.

Moderate Disability (MD)

4

More significant disabilities, but still able to live independently. Can use public transportation, work in an assisted situation, etc.

Severe Disability (SD)

3

Conscious, but dependent upon others for daily care.Often institutionalized

Persistent Vegetative State
(PVS)

2

Not conscious, though eyes may be open and may "track" movement.

Death (D)

1

Self-explanatory.
5The initial injury associated with head trauma is due to forces, often of millisecond duration, applied to the skull and brain.

Secondary effects by contrast to the initial trauma may be quite serious and include brain swelling, and edema, intracranial bleeding, intracranial hypertension, and herniation.

Factors that worsen the initial insult include hyperglycemia, anemia, hypotension, hypercarbia, and hypoxia-effects that may be preventable.

Some time following the initial injury other serious effects may occur and include sepsis, infection, and seizures; and these effects must be either presented or managed aggressively.

In the majority of cases, secondary events influence the clinical course of head injury patients.

One particularly important event is hypotension secondary to head injury.

Post-head injury hypotension is associated with significant morbidity/mortality (frequency = 70%).

The combination of hypotension and hypoxia adds to the likelihood of adverse outcomes (frequency = 90%).

These observations emphasize the importance in limiting or avoiding the currents of post-head injury hypovolemic shock. The implication of these types of findings is that in the event the primary insult is survivable, secondary complications which themselves may have devastating consequences can and should be preventable

The category of primary head injury to brain tissue consists of concussion, contusion, laceration, and hematoma.
Mannitol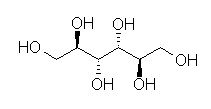 Furosemide (Lasix)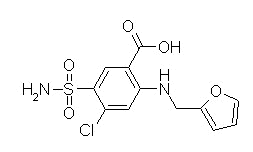 Craniotomy is required for management of acute epidural, intracerebral and subdural hematoma is as well as for depressed skull fractures.

Evacuation using burr holes is often required for chronic subdural hematoma treatment.

Epidural hematoma associated with trauma is a relatively uncommon event associated with head trauma, but when it occurs it is often following automobile accidents.

Unconsciousness associated with epidural hematoma follows from middle meningeal vessel or dural sinus lesions.

Transient improvement in the patient including lucidity is associated with vascular spasm with clotting; however, rebleeding is likely within a few hours with attendant deterioration in patient status. In these circumstances, emergent surgical intervention is mandated, and even in the absence of radiological assessment. This eventuality is particularly likely if the bleed resulted from arterial damage.

Epidural hematomas is derived from venous lesions are more likely to develop slowly allowing radiological evaluation.

Acute subdural hematomas may exhibit a range of clinical presentations that include limited or slight deficits to loss of consciousness with indications of mass effect lesions.

Mass lesions may present with pupillary enlargement, unilateral decrebration, and/or hemiparesis. The most likely cause of subdural hematoma is trauma, although spontaneous events associated with neoplasms, aneurysms, or coagulopathies also occur.

Acute subdural hematoma is defined by the appearance of symptoms within three days; subacute hematoma, within 3-15 days; and chronic subdural hematoma, within an two weeks.

The patient population most likely to exhibit subacute and chronic subdural hematoma is the age group > 50 years.

Subacute and chronic subdural hematomas may exhibit broad clinical presentations ranging from focal signs to reduce level of consciousness or organic brain syndrome development.

Intracranial hypertension is typically associated with acute subdural hematoma and require is aggressive intervention to reduce ICP, and manage cerebral edema and swelling. These interventions may be required before, during, and subsequent to hematoma surgical evacuation.
Normal Brain CT Scan (courtesy of Department of Emergency Services,San Francisco General Hospital, Educational Clinical Images [Web Managers: Preston Maxim, MD, Stephen Bretz, MD, Contributors: Preston Maxim, MD, Stephen Bretz, MD])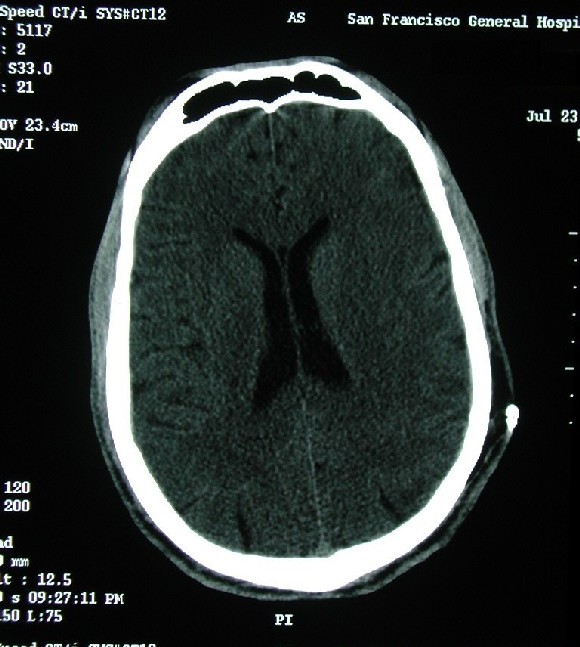 Cerebral Contusion (courtesy of Department of Emergency Services, San Francisco General Hospital, Educational Clinical Images [Web Managers: Preston Maxim, MD, Stephen Bretz, MD, Contributors: Preston Maxim, MD, Stephen Bretz, MD])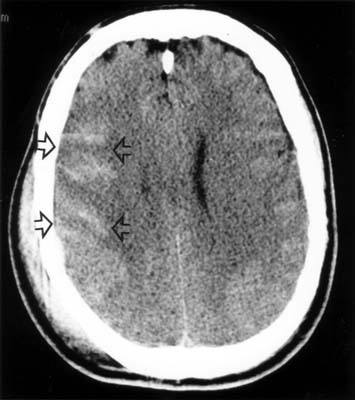 Subdural Hematoma (CT scans) courtesy of Department of Emergency Services,San Francisco General Hospital, Educational Clinical Images [Web Managers: Preston Maxim, MD, Stephen Bretz, MD, Contributors: Preston Maxim, MD, Stephen Bretz, MD]

| | |
| --- | --- |
| | |
Epidural Hematoma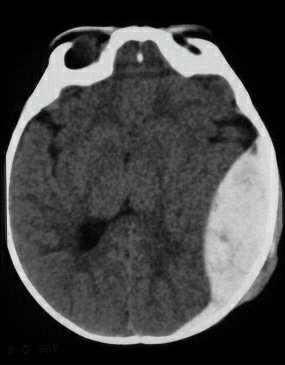 "History: This four year old child was brought to the emergency room after he was hit by a car.

Findings: CT scan without contrast obtained in the trauma center reveals a high density lens shaped collection in the left occipital region. Discussion: Epidural hematomas are located between the dura and the skull.

The tight adhesion of the dura to the skull causes the typical biconvex shape.

This also accounts for the fact that epidural hematomas may cross dural attachments, but not skull sutures.

Most commonly, they occur when a skull fracture lacerates the middle meningeal artery or a major dural sinus". --Case courtesy of J. Keith Smith, M.D., Ph.D. J. Kevin Smith, M.D., Ph.D. T. L. Kamplain. UAB Department of Radiology.
Extradural hematoma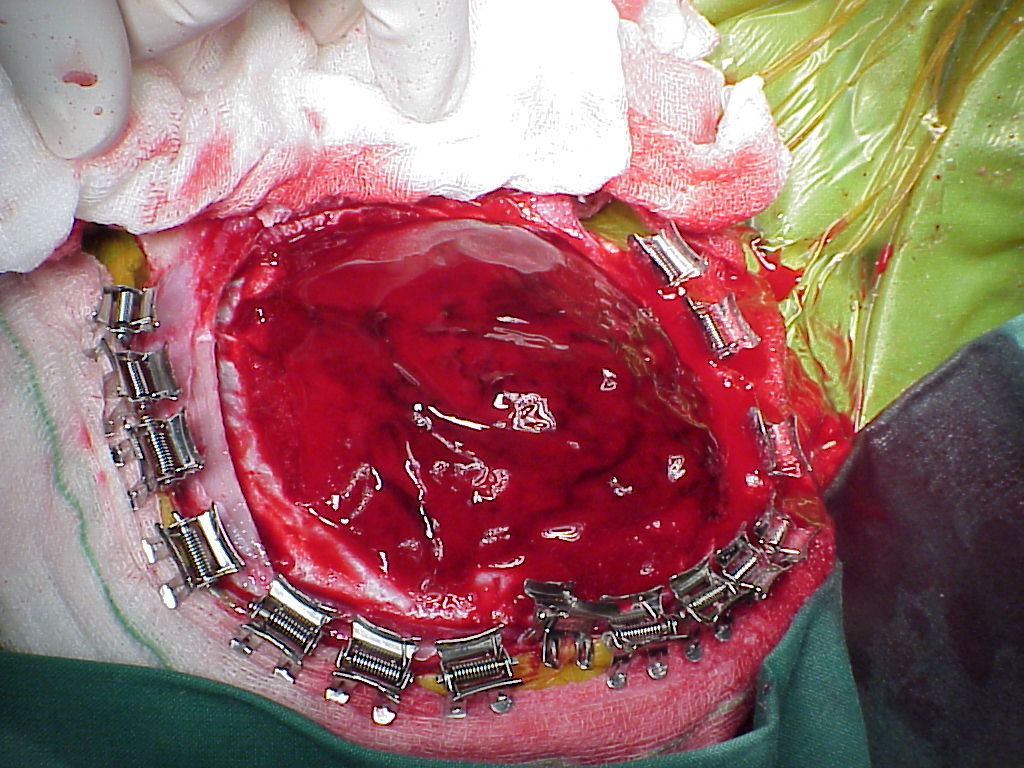 Intracerebral hematoma

| | |
| --- | --- |
| | |
" Intracerebral hematoma. (A) A moderately large hematoma is seen on a CT scan performed in the emergency room. B) Four hours later, after the patient's neurological condition worsened, a repeat CT scan reveals dramatic enlargement of the hematoma. The patient was taken immediately to surgery." AORN Journal, Volume 63 (May 1996), pages 854-867;Copyright AORN, Inc, 2170 S. Parker Road, Suite 300, Denver, CO 80231. (original link: Health Resources: Neurosurgery On Call)
Temporal intracerebral hematoma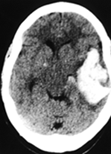 "...spontaneous left temporal intracerebral hematoma with moderate mass effect" resident: Bryan Payne, MD, attending: Deepak Awasthi, MD ; Case Conference of the Neurosurgery Department at Louisiana State University School of Medicine in New Orleans