1Preventing Postoperative Pulmonary Complications: The Role of the Anesthesiologist
Warner, D.O and Weiskopf, R.B. Preventing Postoperative Pulmonary Complications: The Role of the Anesthesiologist, Anesthesiology 2000 May; 92(5): 1467-1472 (c) 2000 American Society of Anesthsiology
1Introduction: This article is a review of pulmonary complications and includes a discussion of significance of perioperative complications, causes, risk assessment, patient preparation and ultimately considers questions of prevention

This article begins with the recognition than one of the earliest victims of respiratory complications following surgery was the death of General "Stonewall" Jackson of pneumonia following apparently successful ether anesthesia in 1863.

Despite the intervening 230 years, postoperative pulmonary complications (PPC) continues to represent an important problem and a question is raised with respect to the role of the anesthesia provider and helping to prevent these problems.

One of the general problems in assessing PPC appears to be the variable definition.

For example there is relative unanimity for including pneumonia, bronchospasm, and respiratory failure. But sometimes, other presentations are included such as unexplained fevers, abnormal breath sounds, productive cough, atelectasis, hypoxemia, and respiratory failure requiring mechanical ventilation.

Despite these different possible definitions of their appears general agreement that PPC is reasonably common and that the postoperative complication described as cardiac occurs with equal frequency to that of PPC.

In one study of adult men having elective abdominal surgery, PPC occurred somewhat more frequently than cardiac complication (about 10% versus about 6% respectively); a complication rate that was associated with longer hospital stays.
1Effects of Respiratory Muscle Incoordination: Fig. 1 of Reference 1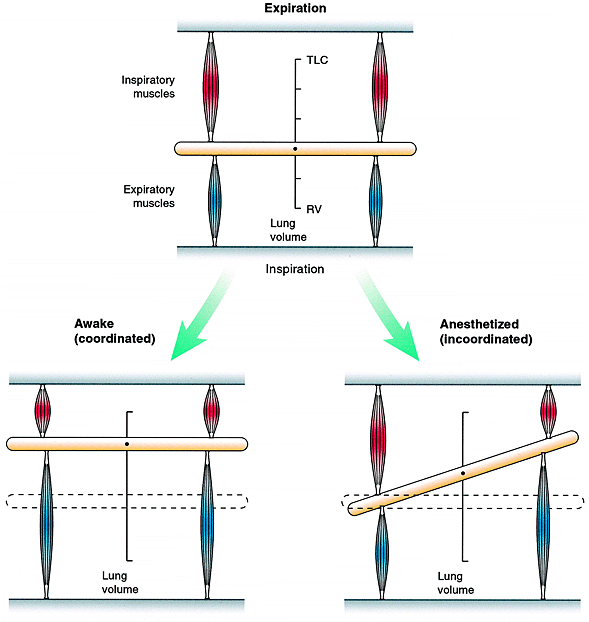 1This model illustrates the consequence of respiratory muscle in coordination with respect to lung function impairment. The midpoint of horizontal bar represents lung volume from low [residual volume, RV] to high [TLC]. Normal chest wall expansion reflects coordinated inspiration (lower left) and his associated with efficient lung volume change. Reduced coordination associated with anesthesia is depicted by bar tilting, consistent with chest wall distortion and lung expansion impairment. This problem with muscle coordination can extend into the postoperative. Particularly with thoracic abdominal surgeries.
1Warner, D.O and Weiskopf, R.B. Preventing Postoperative Pulmonary Complications: The Role of the Anesthesiologist, Anesthesiology 2000 May; 92(5): 1467-1472 (c) 2000 American Society of Anesthsiology--References 1a, 1b, & 1c second sourced from reference 1.

1aWarner DO, Warner, MA, Barnes, RD, Offord, KP, Schroeder, DR, Gray, DT, Yunginger, JW: Perioperative respiratory complications in patients with asthma. Anesthesiology 1996;85: 460-467.

1bBallantyne, JC, Carr, DB, deFarranti, S, Suarez, T, Lau, J, Chalmers, TC, Angelilo, IF, Mosteller, F: The comparative effects of postoperative analgesic therapies on pulmonary outcome; Cumulative meta-analyses of randomized, controlled trials. Anesth Analg 1998; 86: 598-612.

1cJayr, C, Thomas, H, Rey, A, Farhat, F, Lasser, P, Bourgain, JL: Postoperative pulmonary complications: Epidural analgesia using bupivacaine and opiods versus parenteral opioids. Anesthesiology 1993; 78: 666-676.