"There are two primary ascending nociceptive pathways.

These are the spinoparabrachial pathway (red), which originates from the superficial dorsal horn and feeds areas of the brain that are concerned with affect, and the spinothalamic pathway (blue), which probably distributes nociceptive information to areas of the cortex that are concerned with both discrimination and affect.

Many more less prominent pathways could be added2, 5, 6, 68-72.

(A, adrenergic nucleus; bc, brachium conjunctivum; cc, corpus callosum; Ce, central nucleus of the amygdala; Hip, hippocampus; ic, internal capsule; LC, locus coeruleus; PB, parabrachial area; Po, posterior group of thalamic nuclei; Py, pyramidal tract; RVM, rostroventral medulla; V, ventricle; VMH, ventral medial nucleus of the hypothalamus; VPL, ventral posteriolateral nucleus of the thalamus; VPM; ventral posteriomedial nucleus of the thalamus.)"

Figure adapted from: Nature Reviews Neuroscience 2; 83-91 (2001): THE MOLECULAR DYNAMICS OF PAIN CONTROL Nature © Macmillan Publishers Ltd 2001 Registered No. 785998 England

"The descending pathway highlighted originates from the amygdala and hypothalamus and terminates in the periaqueductal grey (PAG).

Neurons project from here to the lower brainstem and control many of the antinociceptive and autonomic responses that follow noxious stimulation.

(A, adrenergic nucleus; bc, brachium conjunctivum; cc, corpus callosum; Ce, central nucleus of the amygdala; Hip, hippocampus; ic, internal capsule; LC, locus coeruleus; PB, parabrachial area; Po, posterior group of thalamic nuclei; Py, pyramidal tract; RVM, rostroventral medulla; V, ventricle; VMH, ventral medial nucleus of the hypothalamus; VPL, ventral posteriolateral nucleus of the thalamus; VPM; ventral posteriomedial nucleus of the thalamus.)"

Figure adapted from: Nature Reviews Neuroscience 2; 83-91 (2001): THE MOLECULAR DYNAMICS OF PAIN CONTROL Nature © Macmillan Publishers Ltd 2001 Registered No. 785998 England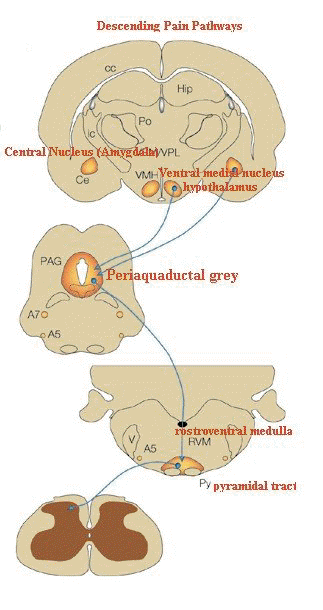 Since opioid biological actions require the molecule to interact with specific receptors and in the case of anesthesia these receptors of primary interest are localized in the spinal cord and brain, the ionization state of the drug is a critical importance.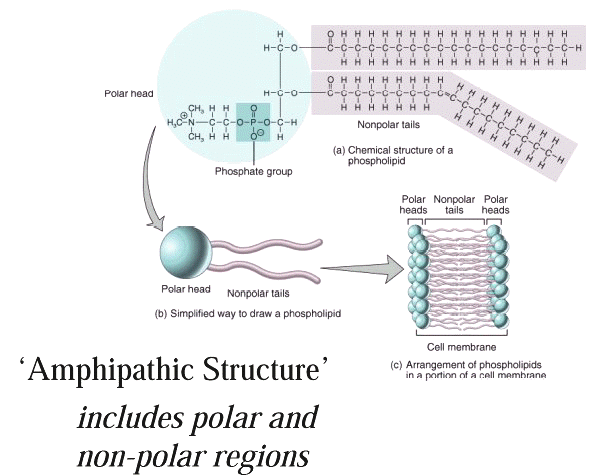 Representation of the lipophilic, hydrophobic core characteristic of biomembrane structure.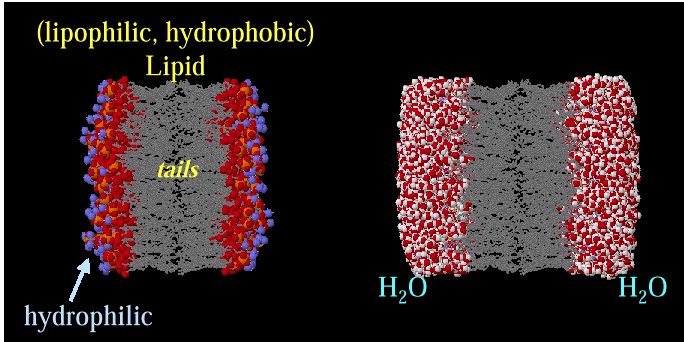 Above images courtesy of Professor Steve Wright and the University of Arizona (c) 2001, used with permission.