Anesthesia Pharmacology: Physics and Anesthesiology
(A) 2% volatile agent, 70% nitrous oxide, 28% Oxygen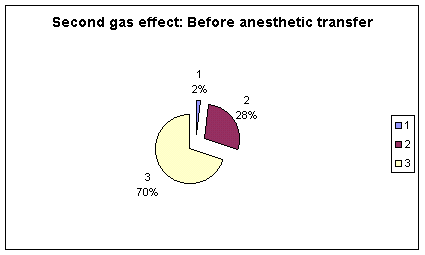 (B) 3.1% volatile agent (blue) following 50% nitrous oxide transfer to blood from alveolar volume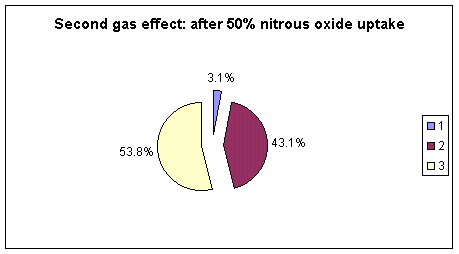 (C) 2.7% volatile agent (blue) following 2nd breath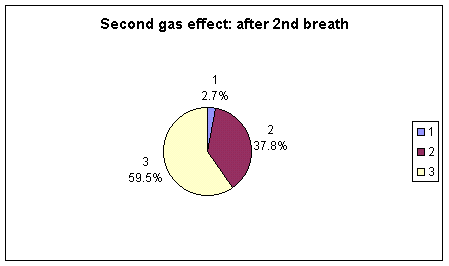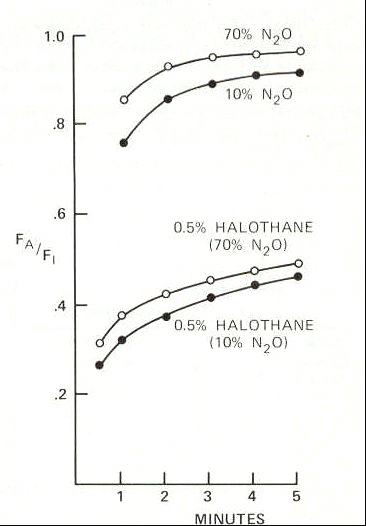 a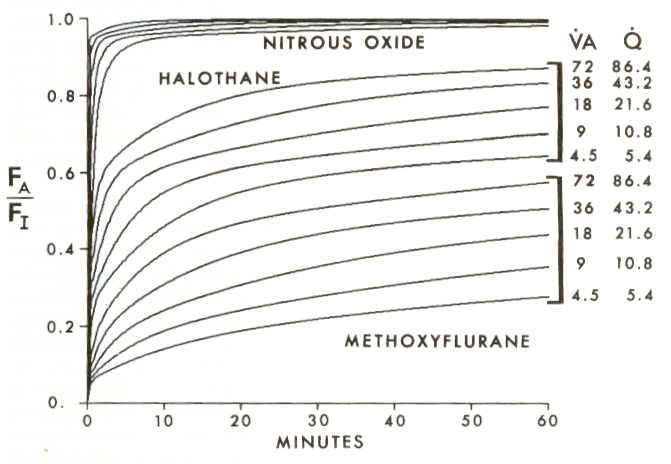 10This graph illustrates (by simulation analysis) the increase in FA/FI rate of rise associated with proportional alveolar ventilation and cardiac output increases.

The theoretical curves agree with experimental data (see original citation) The relatively small effect in FA/FI rate of rise, as elaborated below, might be expected for perfusion enhancement to all tissues. However the effect may be greater if preferential perfusion enhancement occurs to vessel-rich tissue and the process in general is dependent on the use of the relatively more soluble volatile agents. Primary source:as noted in reference 10, Eger, EI II, Bahman, SH, Munson, ES: Effect of age on the rate of increase of alveolar anesthetic concentration. Anesthesiology 35: 365-372. 1971.

10Enhanced cardiac output and ventilation rate might be associated with thyrotoxicosis or hyperthermia. In this situation it is unlikely that a significant change in anesthesia would be noted as a result of modifying FA/FI.

The general analysis presupposes that an increasing cardiac output results in a generalized in proportional increased in tissue perfusion, not favoring any particular tissue group.

However if vessel-rich groups are preferentially perfused, greater effects on FA/FI rate of rise would be seen.

This effect results from the rapid equilibrium apparent between blood and vessel-rich tissue with the consequence that an even faster equilibration would occur with increased perfusion. In that circumstance, blood coming from vessel rich tissue groups would exhibit nearly the same anesthetic gas partial pressure and in alveolar volume.

Because the blood is more nearly saturated when it is re-exposed to the alveolar volume, limited additional gas transfer can occur even if the alveolar ventilation is increased. This increased perfusion of vessel rich groups and increased ventilation rates will cause a more substantial FA/FI rate of rise.

10In children, compared to adults, there is a relatively greater degree of ventilation and perfusion per kilogram and this observation may explain the significant increase in halothane (Fluothane) FA/FI rate of rise.

Another factor, is that in children, there appears to be a greater degree of vessel-rich tissue group perfusion compared to the adults.

So, in children and infants more rapid anesthesia development might be expected.

In additional factor is that there may be relatively higher CNS (brain) perfusion.

Below graph: reference 10 and Salanitre, E., Rackow, H: The pulmonary exchange of nitrous oxide and halothane in infants and children. Anesthesiology 30: 388-394, 1969.