Nursing Pharmacology Chapter 1: General Principles: Overview and Introduction
"Principles of Pharmacology"
Gamel-McCormick, S, Ph.D., MSN, RN (2009)
Drug shape

Acetylcholine, a neurotransmitter, is composed of an "acetyl" group and choline. The linkage between these two group is the target of an enzyme which breaks down the transmitter and terminates its action. This linkage is an "ester" bond.

So, this ester bond is susceptible to hydrolysis, i.e. breakage which may be catalyzed by esterases (acetylcholinesterase is an example).
The image below illustrates the relationship between the very small molecule, acetylcholine, and its specific interaction within the very large molecule, acetylcholinesterase.
Acetylcholine interacting with specific amino acids at the active site of acetylcholinesterase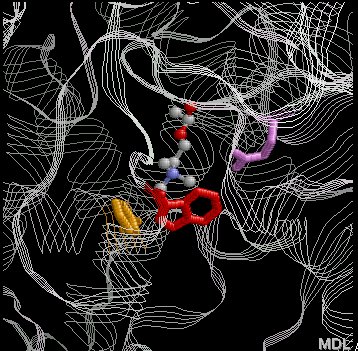 This image illustrates how the neurotransmitter acetylcholine is recognized by specific amino acids within acetylcholinesterase's active site.

This image was created by Dr. Ricky Cox in the Department of Chemistry, Murray State University as part of research into the role of Noncovalent Interactions in ligand-protein interactions. Image used with permission.