Nursing Pharmacology Chapter 22: Serotonin Pharmacology
Serotonin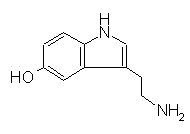 Serotonin is a widely distributed indoleethylamine formed from L-tryptophan:

Serotonin synthesis may be inhibited by p-chlorophenylalanine (PCPA, fenclonine)

Following synthesis, Serotonin may be:

Stored or

Rapidly inactivated by an oxidative step catalyzed by the enzyme, monoamine oxidase or MAO.

Furthermore, in the pineal gland, serotonin serves as a precursor for melatonin which is controlled in part by melanocyte-stimulating hormone.
Burkhalter, A, Julius, D.J. and Katzung, B. Histamine, Serotonin and the Ergot Alkaloids (Section IV. Drugs with Important Actions on Smooth Muscle), in Basic and Clinical Pharmacology, (Katzung, B. G., ed) Appleton-Lange, 1998, pp 261-286.