Anesthesia Pharmacology Chapter 23: Co-Existing Disease: Diabetes

Physiology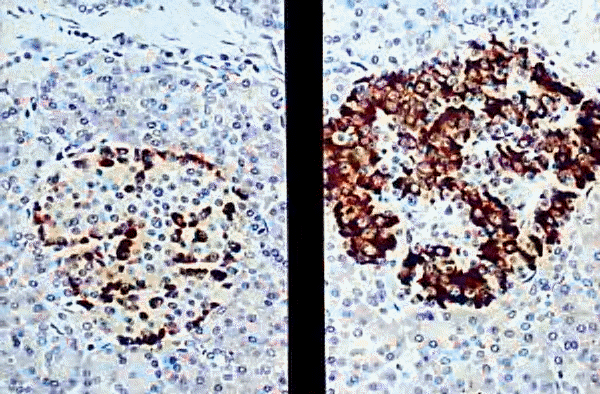 Left- anti-insulin, Right- anti-glucagon; Ó 1999 KUMC Pathology and the University of Kansas, used with permission; courtesy of Dr. James Fishback, Department of Pathology, University of Kansas Medical Center.
insulin: anabolic/storage hormone

islet amyloid polypeptide (IAPP): unknown function

glucagon: hypoglycemic factor used for glycogen storage mobilization

pancreatic peptide: facilitates digestion
Alpha cell stimulation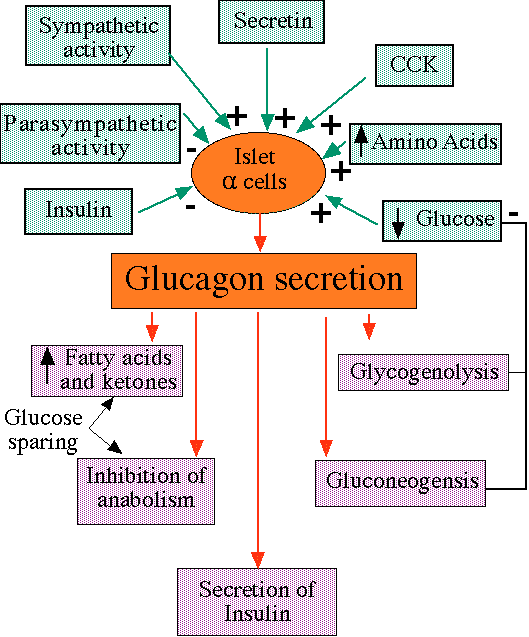 "Inputs to alpha cells and effects of glucagon, including negative feedback, which increases plasma glucose levels"
courtesy of Robert H. Parsons, Ph.D., Rensselaer Polytechnic Institute, used with permission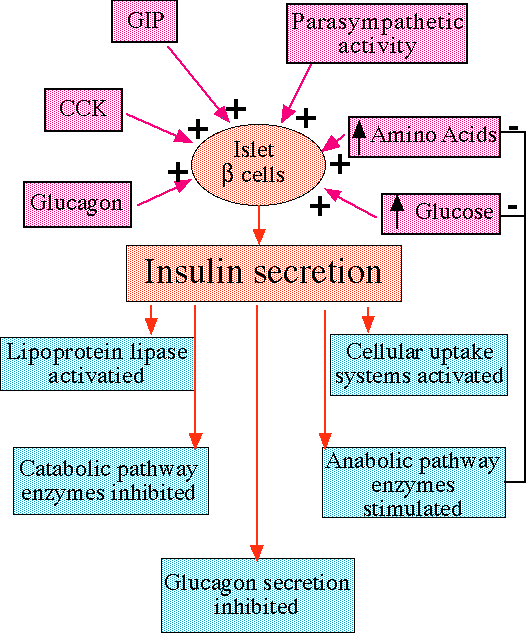 "Inputs to beta cells and effects of insulin, including negative feedback on glucose and amino-acids levels. "
courtesy of Robert H. Parsons, Ph.D., Rensselaer Polytechnic Institute, used with permission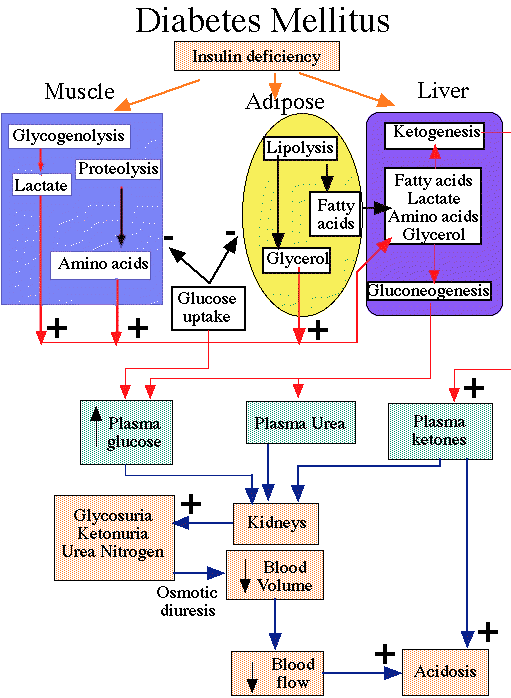 "Effects of Insulin deficiency"
courtesy of Robert H. Parsons, Ph.D., Rensselaer Polytechnic Institute, used with permission
| | | |
| --- | --- | --- |
| Characteristic | IDDM | NIDDM |
| Genetic locus | Chromosome 6 | unknown |
| Typical age of onset | Usually < 40 years of age | > 40 years of age |
| Plasma insulin | Low to absent | Normal to high |
| Plasma glucagon | High, suppressible | High, resistant |
| Acute complication | Ketoacidosis | Hyperosmolar coma |
| Insulin therapy | Responsive | Responsive to resistant |
| Response to sulfonylurea drugs | Unresponsive | Responsive |
* Insulin-dependent diabetes mellitus
**Non-insulin dependent diabetes mellitus
a group of milder forms of diabetes

occurring mainly in adults

endogenous insulin: sufficient to prevent ketoacidosis --

abnormal insulin secretion

resistance to insulin action at the tissue.

Obesity: common risk factor

NIDDM patients: deficiency in pancreatic B cell response to glucose

plasma glucose: normal -- elevated insulin levels

elevated insulin levels -- postprandial hypoglycemia

Insulin or systems to change -- reduced insulin secretion causes fasting hyperglycemia him (diabetes)

NIDDM: appears in middle age or later; mainly in overweight patients

gradual onset of symptoms

extreme hyperglycemia

hyperosmolality

volume depletion

CNS symptoms (ranging from clouded sensorium to coma)

seizure activity (Jacksonian)

transient hemiplegia

Infections -- pneumonia and gram-negative sepsis (common, associated with very negative prognosis)

patients with NIDDM: do not develop ketoacidosis

patients with NIDDM: may develop hyperosmolar, nonketotic coma

Hyperosmolar coma can also be caused by:

peritoneal/hemodialysis

tube feeding of high-protein formulas

high-carbohydrate in fusion loads

osmotic agents (mannitol and urea)

Treatment of hyperosmolar coma states:

large amounts of intravenous fluids (average fluid deficit: 10-11 liters.

Insulin: more rapid control hyperglycemia

Potassium salts (counteract intracellular shifted plasma K+)

Sodium bicarbonate (if lactic acidosis present)

Antibiotics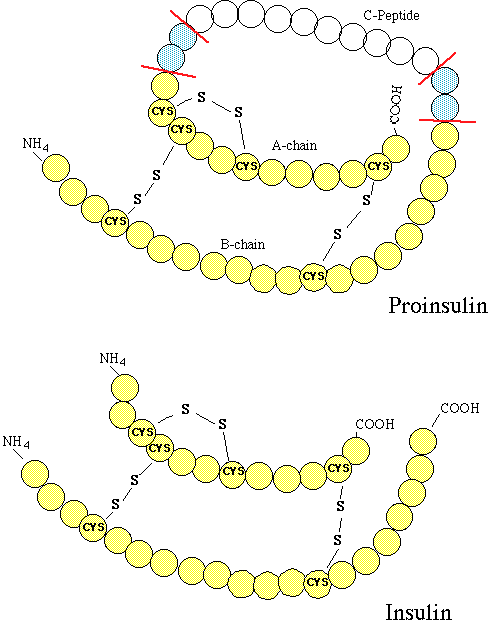 "The structure of proinsulin (top) and insulin (bottom). Note that with removal of two pairs of basic amino acids (blue), that proinsulin is converted into insulin and C-peptide. "
courtesy of Robert H. Parsons, Ph.D., Rensselaer Polytechnic Institute, used with permission
small protein,composed of two chains and( A and B)

Pancreatic B cells produced proinsulin, the insulin precursor, which consists of a single-chain protein

Proinsulin, following Golgi apparatus processing, is packaged into granules -- that hydrolyzes insulin and C-peptide

Pancreatic B cell granules store insulin in crystals (2 atoms of zinc six molecules of insulin)

28 units of insulin per milligram

normally low basal rate from pancreatic B cells

higher stimulated rate in response to:

glucose

other sugars (e.g. mannose)

certain amino acids (e.g. leucine, arginine)

vagal nerve activity

hyperglycemia

increased intracellular ATP concentration

higher intracellular ATP closes ATP-dependent potassium channels

decreased outward potassium current causes pancreatic B cell depolarization and opens voltage-gated calcium channels

increased intracellular calcium promotes insulin secretion

intracellular second messengers modulate release:

cyclic AMP

inositol triphosphate

diacylglycerol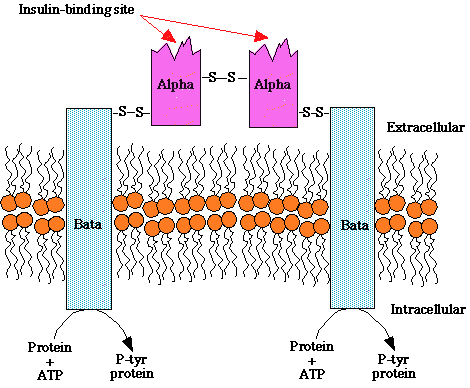 "Structure of the insulin receptor, a heterotetramer consisting of two extracellular insulin-binding subunits linked by a disulfide bonds to tow transmembrane beta subunits. The beta subunits contain an intrinsic tyrosine kinase activity that is activated upon insulin binding to the alpha subunit. "

courtesy of Robert H. Parsons, Ph.D., Rensselaer Polytechnic Institute, used with permission
| | | |
| --- | --- | --- |
| Tolbutamide (Orinase) | tolazamide (Tolinase) | acetohexamide |
| chlorpropamide (Diabinese) | glyburide (Micronase, DiaBeta) | glipizide (Glucotrol) |
Tolbutamide: (Orinase)

well absorbed; shorter duration of action

safest sulfonylurea for use in the elderly

rare acute toxic reactions

some drug drug interactions (dicumarol, phenylbutazone, or some sulfonamides)

Tolazamide (Tolinase)

comparable to chlorpropamide in potency; shorter duration of action

slow absorption; delayed effect on blood glucose

metabolized to biologically active compounds

intermediate duration of action (between Tolbutamide (Orinase) and chlorpropamide (Diabinese)-- 10-16 hours

hepatically metabolized to inactive metabolite
Acarbose (Precose)

oligosaccharide analog -- strongly binds to intestinal disaccharidases (e.g. alpha-glucosidase)

results in delayed carbohydrate absorption:

starches, dextrins, maltose, sucrose (not lactose)

Drug-drug interaction: acarbose interferes with metformin absorption

Miglitol (Glyset)

similar to acarbose (Precose) but possibly with less hepatotoxicity

Acarbose (Precose) and miglitol (Glyset) have similar similar gastrointestinal effects
Glucagon, a peptide, produced by A cells of the pancreatic islets of Langerhans

Glucagon is arrived from a large precursor peptide (one intermediate: glicentin, 69-amino acid peptide)

Rapidly inactivated in plasma (degraded also at hepatic, renal, and tissue receptor sites)

Enteroglucagons:

Glicentin immunoreactivity: cells of the small intestine, pancreatic A cells, pancreatic effluent-- glucagon-like peptides

Management of Severe Hypoglycemic States

emergency treatment in insulin-dependent unconscious patients in which intravenous glucose cannot be administered (a conscious patient would be treated by drinking orange juice or other high sugar content foods)

Glucagon is available for parenteral use.

evaluation of pancreatic B cell secretory insulin reserve

provocative hormonal discharge from suspected:

Beta-blocker Overdosage: (useful for enhancing myocardial performance independent of the beta-receptor)

Diagnostic Radiology: glucagon-induced intestinal relaxation assists in radiological assessment of the bowel.
Karam, J. H., Pancreatic Hormones and Antidiabetic Drugs, in Basic and Clinical Pharmacology, (Katzung, B. G., ed) Appleton-Lange, 1998, pp 684-703
Foster, D. W., Diabetes Mellitus, In Harrison's Principles of Internal Medicine 14th edition, (Isselbacher, K.J., Braunwald, E., Wilson, J.D., Martin, J.B., Fauci, A.S. and Kasper, D.L., eds) McGraw-Hill, Inc (Health Professions Division), 1998, pp 2060-2080