Anesthesia Opioid Pharmacology: Advanced Topics
Review
alfentanil

| | |
| --- | --- |
| | |
Opioid Structural Classifications
Papaver somniferum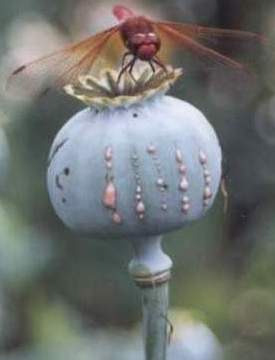 1Naturally occurring opioids are divided into two chemical classes: (1) five-ring structures, phenanthrenes represented by morphine and codeine and (2) three-ring structures represented by papaverine.

1Semisynthetic agents are derivatives of morphine and include codeine, heroin (diacetylmorphine ), and thebaine which is an inactive opium derivative but a precursor of several compounds used clinically, such as oxymorphone, oxycodone, and naloxone.
1Synthetic opioid compounds fall into one of four categories:

Morphinan derivatives e.g. levorphanol: basic morphinan structure =

Diphenyl or methadone derivatives (methadone,d-propoxyphene)

Benzomorphan compounds e.g. pentazocine

Phenylpiperidine derivatives such as meperidine, fentanyl, alfentanil, remifentanil, and sufentanil. Basic phenylpiperidine structure =

The major role in contemporary anesthesia with respect opioid use is filled by phenylpiperidine derivatives.

1Opioid functional classifications include (a) agonist, (b) partial agonist, (c) agonist-antagonist and (d) antagonist.

Interaction of an opioid receptor with an agonist results in a physiological effect; furthermore, an agonist may exhibit a maximal effect with respect to some endpoint, such as analgesia whereas a partial agonist while also mediating its effect through opioid receptor interactions results in some reduced level of analgesia.
1Notice the difference between agonist and partial agonist maximal effects (Fig 10-2, ref. 1)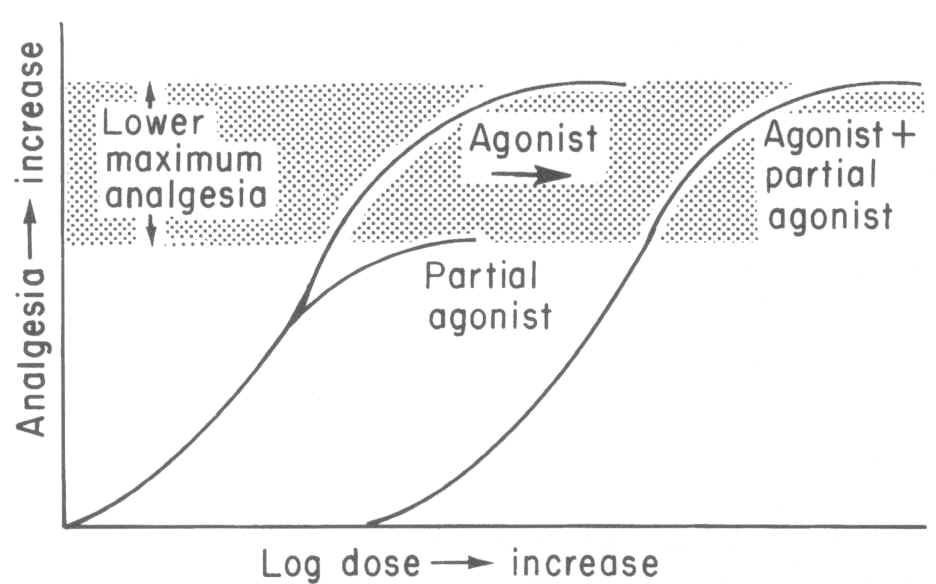 An example of partial agonist would be buprenorphine, which by definition, cannot exert the same magnitude of opioid effect (-mediated) when compared to a full agonist.

Nalbuphine is an example of a mixed agonist-antagonist agent, acting as an agonist at one receptor type ( ) and as a result promoting a weak spinal-cord mediated analgesia on one hand and an antagonist action and the second receptor type () which manifests as reversal of agonist-mediated respiratory depression.
Structure-Activity Relationships
1Morphine (left) exhibiting the "T" shape of the fundamental phenylpiperidine structure (Fig. 10-3, ref 1)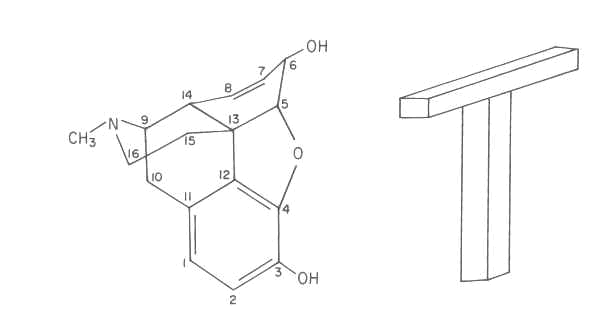 2T-Shape opioid molecule conformations (Fig 14-2, ref 2)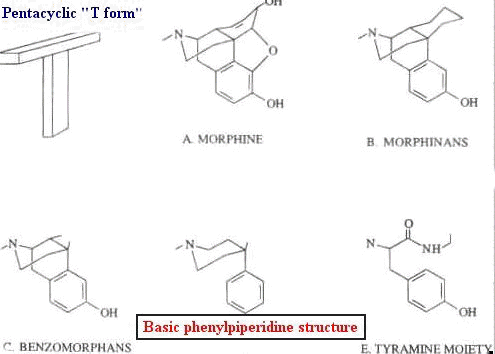 1Bailey, PL, Egan, TD, Stanley, TH, "Intravenous Opioid Anesthetics", in Anesthesia 5th edition, Miller, R.D., editor, Churchill Livingstone, Philadelphia, 2000, 273-377 (references secondarily sourced from this primary reference our noted below in the indented references)

1aLowenstein, E, Hallowell P, Levine FH et al.: Cardiovascular response to large doses of intravenous morphine in man.N. Engl J Med 281:13 89, 1969

1b Stanley, TH, Webster LR; Anesthetic requirements and cardiovascular effects of fentanyl-oxygen and fentanyl-diazepam-oxygen anesthesia in man. Anesth Analg 51:901, 1972.

1c Arens, JR, Benbow, BP, Ochsner JL et al: Morphine anesthesia for the aorto-coronary bypass procedures. Anesth Analg 57: 411, 1978

1d Stanley, TH, Gray NJ, Staford W. et al: The effects of high-dose morphine on fluid and blood requirements in open-heart operations. Anesthesiology 38:536, 1973.

1e Stoelting, RK, Gibbs PS, Creasser CW et al: Hemodynamic in ventilatory response to fentanyl, fentanyl-droperidol, and nitrous oxide in patients with acquired valvular heart disease. Anesthesiology 42:319, 1975.

Coda, BA, "Opioids" in Clinical Anesthesia, 4th edition, Barash, PG, Cullen, BF, Stoelting, RK, editors, Lipincott Williams and Wilkins, Philadelphia, 2001, 345-375

Ross, AF, Gomez, MK, Tinker, JH "Anesthesia for Adult Cardiac Procedures in Principles and Practice of Anesthesiology, 2nd edition, Longnecker, DE, Tinker, JH, Morgan, GE, eds, Mosby, St. Louis, 1998, pp. 1659-1698.

Heish, JC, Carr, DB "Choosing a Therapeutic Approach: Opioids" in The Massachusetts General Hospital Handbook of Pain Management (Borsook D, LeBel, AA, McPeek, B, eds) Little, Brown and Company, Boston, 1996, pp 47-75.
DISCLAIMER
This Web-based pharmacology and disease-based integrated teaching site is based on reference materials, that are believed reliable and consistent with standards accepted at the time of development. Possibility of human error and on-going research and development in medical sciences do not allow assurance that the information contained herein is in every respect accurate or complete. Users should confirm the information contained herein with other sources. This site should only be considered as a teaching aid for undergraduate and graduate biomedical education and is intended only as a teaching site. Information contained here should not be used for patient management and should not be used as a substitute for consultation with practicing medical professionals. Users of this website should check the product information sheet included in the package of any drug they plan to administer to be certain that the information contained in this site is accurate and that changes have not been made in the recommended dose or in the contraindications for administration. Advertisements that appear on this site are not reviewed for content accuracy and it is the responsibility of users of this website to make individual assessments concerning this information. Medical or other information thus obtained should not be used as a substitute for consultation with practicing medical or scientific or other professionals.