Medical Pharmacology Chapter 14: Anesthesia Fundamentals
Chapter 1: Gases
"We live submerged at the bottom of an ocean of air - Torricelli, 1644"
Definitions:

2Units:

Pascal (Pa): 1 Pa = 1 Newton/m2 or 1N/m2

atmosphere (atm): one atm =101325 Pa = 14.7 lbs/in2

bar: 1 bar = 100000 Pascal

torr: 760 torr = 1 atm

mm Hg: 1 mm Hg = 1 torr

Major properties associated with gas: pressure, volume, moles, and temperature. Equations relating pressure, volume, temperature, and moles for gas would be called an equation of state. The major properties of gases are described by the relationship PV=nRT where R is the gas constant.
3Lift Pump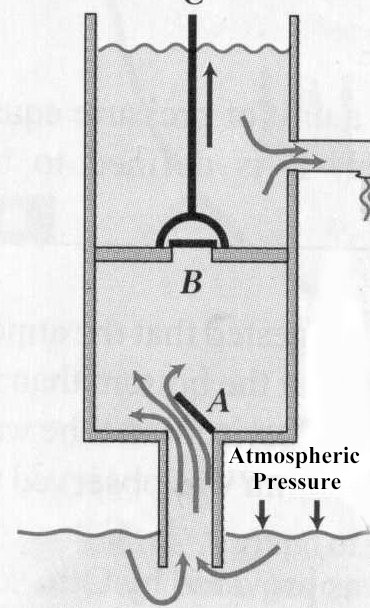 Note rod "C" that lifts movable piston which contains a valve "B". Also, note the valve A. When rod C is lifted, valve B closes and valve C opens. Then the water from below the piston will flow to the chamber and the water above the piston will flow out concurrently. Now when rod C is pushed down, valve A closes and valve B opens which permits water to flow above the piston.
Consider the lift pump above. Galileo was first to recognize or more correctly record that a lift pump could only raise water is high as 10.4 m or 34 ft. The explanation was provided by Torricelli who suggested that water was being forced up the pipe as a consequence of the pressure exerted by the atmosphere on the surface of the water at the bottom of the pump. Carrying this idea further, since mercury (Hg) is about 14 times as dense as water, Torricelli predicted that atmospheric pressure would support a column of mercury only 1/14 as high as the maximum water column. See calculations below (reference 4).
In the Torricellian tube, the atmospheric pressure supports, mercury 760 mm tall (Figure 12.2, reference 4)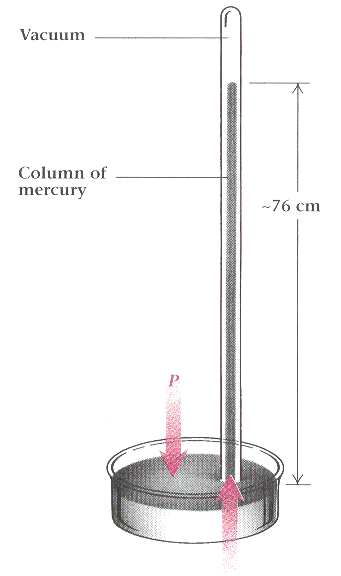 Let us begin this discussion by noting the equation P = F/A showing the relationship between force, area and pressure. To use a familiar example, we will consider to syringes of different sizes as shown below:
The force exerted by the thumb on the plunger will be considered to be the same in both cases.

If the applied force is the same in both cases, then the pressure will be determined in a manner dependent on the inverse of the area, P = F/A.

The area of the smaller syringe plunger surface is A and the area of the larger syringe plunger surface is 4A.

If the smaller syringe were a 2 ml syringe, then the plunger surface area would be about 5 x 10-5 m2 with the area of the larger syringe (say a 20 mls syringe) would be about 2.5 x 10-4 m2 . Figure above: (©) University of Kansas)

Consider the case in which the force applied by the thumb is set at 25 Newtons: then substituting into our equation P = F/A we have 25 Newtons / 5 x 10-5 m2 which is 500 kPa (kiloPascals).

Since the area is greater for the 20 ml syringe we can calculate a new pressure, i.e. 25 Newtons / 2.5 x 10-4 m2 or 100 kPa. [100kPa is approximately 1 atm].

Now 1 atm is about 760 mm Hg which is about 100 kPa.

This means that if we take systolic blood pressure as 120 mm Hg (16 kPa), then our 100 kPa (1 atm) is about 6 times this systolic blood pressure.

To better appreciate some of these pressures, let's consider the following clinical correlation.

In a type of regional anesthesia (Bier block), local anesthetic is injected intravenously and the local anesthetic concentration is maintained by pressure cuff which is inflated to above the systolic pressure.

The clinical advantage of this procedure is that systemic toxicity associated with local anesthetics, particularly CNS toxicity is less likely to occur.
1In the diagram above (©) University of Kansas) note there are two forces to consider.

The first force is applied to inflate the pressure cuff (F, in blue), whereas a second force (F, in red) is applied to the syringe plunger.

From our calculations above using the 20 ml syringe example is possible to apply sufficient plunger force to cause pressures well in excess of usual systolic blood pressures.

Accordingly, if excessive pressure is applied to the syringe plunger the local anesthetic can enter the vascular system distal to the cuff at a pressure sufficient to overcome the "cuff" barrier and as a consequence, the drug can gain access to the systemic circulation.

1Another clinical correlation example in which the relationship between pressure, area, and force are highlighted would be that of bedsore formation.

In one example, if the patient weight over a localized region (10-2m2) [which is equal to 10 cm x 10 cm] is set at 20 kg, then the force over this area can be found by applying the relationship F = ma (force = mass times acceleration) which is Newton's second law.

Now we can apply our equation P = F/A where P is the pressure and F is the force with A representing area; 196 N/10-2m2 = 19.6 kPa.

The final step required to understand the clinical consequence is to compare the pressure exerted on this region (19.6 kPa) with a systolic blood pressure of 120 mmHg or about 16 kPa.
Pressure "Bed" sore secondary to loss of blood flow with subsequent tissue necrosis
Clinical Correlation
7Bier block -- double tourniquet location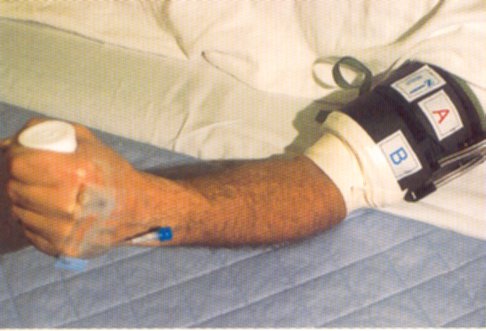 The arm is exsanguinated by wrapping with a wide elastic band (esmarch). The approach might utilize a 10 cm Webril padding band.

A pneumatic double cuff is placed and the proximal tourniquet inflated. The lower end of the distal cuff will be secured using foam tape to prevent movement.

With the proximal cuff inflated, 40-50 mls (cc) of 0.5% lidocaine is injected through the intravenous catheter -- subsequently (usually within minutes) anesthesia is obtained and the operation may be initiated. Note that the distal cuff remains in place, but uninflated

When the patient begins to experience the discomfort from the effects of the proximal tourniquet, the distal cuff, under which anesthetic has been infused is inflated -- and that point the proximal cuff may be deflated.

Later, the distal cuff will also become painful, as a result of ischemia. The maximal permissible time is really the maximal allowable ischemic time limit which limits the anesthesia period to about 90 minutes.

A major concern in this anesthetic method is the possibility for local anesthetic toxicity, which is a rare complication unless tourniquet time turns out to be < about 30 minutes. In that case repetitive deflation and re-inflation of the tourniquet will tend to limit systemic local anesthetic toxicity. Communication with the patient in the circumstances is required to detect early symptoms of toxicity, which implies that excessive sedation should be avoided.
Abbreviations
atm (atmosphere)
mmHg (millimeters of mercury)
torr (same as mmHg)
Pa (Pascal; kPa = kiloPascal)
K (Kelvin)
oC = degrees Celsius
Conversions
K = °C + 273
1 cm3 (cubic centimeter) = 1 mL (milliliter)
1 dm3 (cubic decimeter) = 1 L (liter) = 1000 mL
0.00 °C = 273 K
1.00 atm = 760.0 mm Hg = 101.325 kPa = 101,325 Pa
Gas quantity

The amount of the gas can be represented by moles (mol) or in grams (g). If grams are used, we often have to convert to moles. The lowercase n is used to represent some variable amount of the gas in moles-- recalling that our other variables are all capitalized. Note this standard representation in the relationship PV=nRT, which says that pressure times volume equals the number of moles times the gas constant times the temperature (Kelvin).
1Boyle's Law: This is the first gas law and states that if the temperature is held constant, the volume of a given amount of gas will vary inversely with the absolute pressure. So at constant temperature, P1 x V1 = P2 x V2. For example, if we have a cylinder of gas under pressure equivalent to 13,800 kPa (the internal volume or capacity of the cylinder is about 10 liters), how much gas would be available at atmospheric pressure which we will say is about 100 kPa.

Substituting in the equation P1 x V1 = P2 x V2., (V2 = P1 x V1 /P2 ) we have 13,800 kPa x 10 liters) / 100 kPa = 1380 liters. Note that the internal volume of the cylinder remains of course at 10 liters so that one would really have 1370 liters available at atmospheric pressure.

Simply by plugging in numbers we can get the answer without regard for the underlying molecular processes. We'll soon see that thinking about these relationships in terms of the underlying processes may provide for a more intuitive appreciation.
| | | | |
| --- | --- | --- | --- |
| Variables allowed to change | Variables held constant | Resulting relationship | Formal designation |
| pressure and volume | number of molecules and temperature | P1V1 = P2V2 | Boyle's Law |

If one were to look at Boyle's Law in terms of what experiment would reveal the basic relationship, we would be comparing gas volumes to pressure with everything else held constant, e.g. temperature. The following data might be obtained:
2Boyle's Experimental Data

| | | |
| --- | --- | --- |
| Volume (ml) | Pressure (Torr) | PV (ml*Torr) |
| 10 | 760.0 | 7.60 x 103 |
| 20 | 379.6 | 7.59 x 103 |
| 30 | 253.2 | 7.60 x 103 |
| 40 | 191.0 | 7.64 x 103 |
-- as noted from the data above the volume is inversely proportional to the pressure, recalling that everything else that might influence is held constant. Since pressure may be defined in terms of the frequency of molecular collisions which result in momentum transfer, reducing the volume while retaining the same number of molecules increases the number of molecular collisions and therefore from the kinetic theory of gases point of view the pressure must increase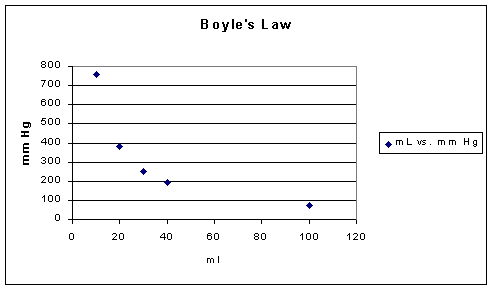 4Another graph of pressure vs. volume for a gas enclosed in a cylinder at constant temperature (Boyle's law requires that P*V is constant)--Figure 12.4 from reference 4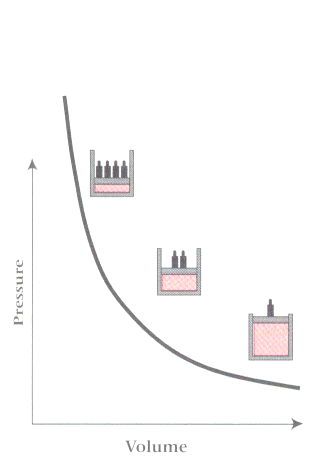 3aExamples:

2.00 L of a gas at 740 mmHg pressure. What will its volume be at standard pressure? First recall that Boyle's Law states: P1V1 = P2V2 and in this example the starting pressure is 740 mmHg & the starting volume is 2 L.

solution: (740.0 mmHg) * (2.00 L) = (760.0 mmHg) * x, where x is the symbol for the unknown. The answer = [740.0 mmHg * 2.00 L] / 760.0 mmHg. We need to recall here that standard conditions for pressure is 760 mmHg.

5.00 L of a gas is at 1.08 atm. Supposing the volume was 10.0 L, what would be the pressure?

solution: same approach as above, P1V1 = P2V2 , or [1.08 atm * 5.00 L] = x * 10.0 L; x = [1.08 atm * 5.00 L] / 10.0 L; note that the volume unit (L) cancel, leaving the pressure unit, atm.

Here's another problem which references the figure below:
In this figure, the gas is enclosed in the cylinder at constant temperature. The volume of the gas in the gauge may be neglected. (figure 12.5 from reference 4)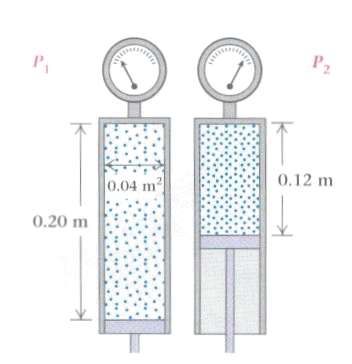 In this example the cylinder has a cross-sectional area of 0.04m2 and a height of 0.2m (left cylinder).

There are no leaks between the piston and the cylinder walls and therefore movement of the piston can cause compression of the gas.

At the beginning the air is at atmospheric pressure and fills the cylinder [atmospheric pressure = 1.01 x 105 N/m2].

As always we start with the basic Boyle's law statement, which defines the initial and final system states by the subscripts 1 & 2: P1V1 = P2V2 .

Since we are interested in the final pressure, we can rearrange the relationship as follows P2= P1V1 / V2 and now plugging in the numbers.

P2 = (1.01 x 105 N/m2)(0.20 m x 0.040 m2) /(0.12m x 0.040 m2) = 1.7 x 105N/m2 which is the new pressure and can also be written 1.7 x 105Pa.

In this example, we were not directly provided the volume; however, if we know the cross-sectional area, which we did, we can multiply that by the height and get the volume.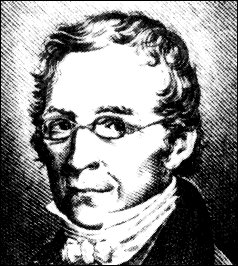 Since we're going to talk about Charles's law next, we begin by noting that in a way it was discovered by Joseph Louis Gay-Lussac, in 1802 but in that published work he noted that there had been some earlier but unpublished work done by Jacque Charles.

Charles found that oxygen, nitrogen, hydrogen, carbon dioxide, and air all expanded to the same extent over an 80 degree interval.

With that in mind, the picture below is that of Charles. On exam, we will not require you to know which is which.

As elaborated below, Charles's law illustrates the relationship between volume and temperature if pressure and the amount of the gas are held constant.
| | | | |
| --- | --- | --- | --- |
| Variables allowed to change | Variables held constant | Resulting relationship | Formal designation |
| volume and temperature | number of molecules and pressure | V1/T1=V2/T2 | Charles' Law |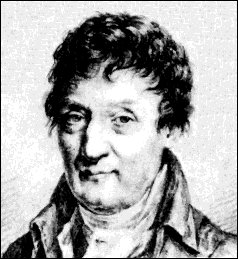 1Charles' Law a.k.a. Gay Lussac's Law:

This is the second gas law which states that at constant pressure, the volume of a gas will vary directly with the absolute temperature.

So here we have volume is proportional to temperature or V / T = constant.

Therefore at constant pressure if we double the temperature (given in degrees Kelvin, i.e. oC + 273) we double the volume.

In an approach similar to the one employed above for Boyle's Law, the experiment that reveals Charles's Law would be performed such that all pressure and the number of molecules are held constant, the relationship between volume in temperature can be examined. The following data might be obtained:
2Charles' Experimental Data

| | | | |
| --- | --- | --- | --- |
| ml | Temperature (oC) | Temperature (oK) | ml/oK |
| 40.0 | 0.0 | 273.2 | 0.146 |
| 44.0 | 25.0 | 298.2 | 0.148 |
| 47.7 | 50.0 | 323.2 | 0.148 |
| 51.3 | 75.0 | 348.2 | 0.147 |
| 55.3 | 100.0 | 373.2 | 0.148 |
| 80.0 | 273.2 | 546.3 | 0.146 |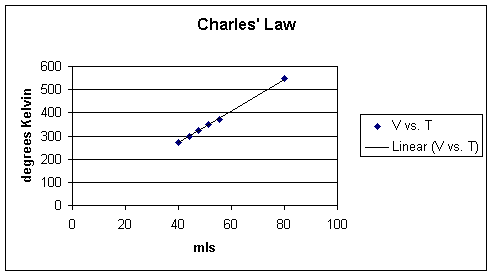 As noted above, if the volume increases then the temperature increases and similarly if the volume decreases than the temperature will also decrease.

Up to this point we haven't consider temperature in terms of molecular motion, but we will, and for the moment must suppose the we already have.

So let's suppose that the temperature is increased.

The flip side is also true.

3aThe equation is represented not only as V / T = constant (k), but probably more usefully as V1/T1 = V2T2 or in accord with the graphic below which illustrates two methods for representing the equation mathematically.

The top case represents a lower temperature case; note that the weight exerting the downward force is the same in both cases. The volume & temperature must change in a coordinated matter to ensure that the relationship "V / T =constant" is maintained [volume is directly proportional to temperature]. Figure 12.6 from reference 4.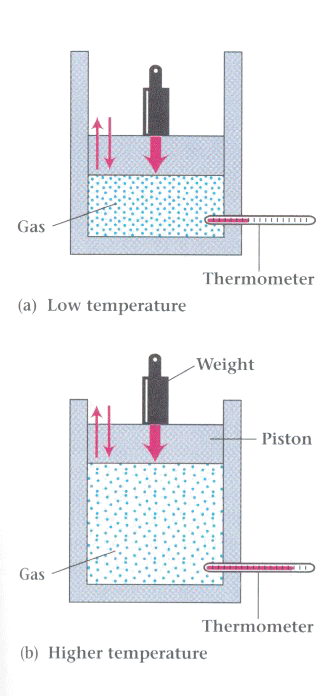 3aExamples

Problem: a gas is collected and found to fill a volume of 2.85 L at 25°C. What will the volume be at standard temperature?

Solution: firstly, convert 25°C to degrees Kelvin, giving 298°K. Remember that standard temperature is 273°K. The equation looks as follows: answer = (2.85 L/298°K) = x / 273°K

Problem: 4.4L of the gas is collected at 50°C. Now what would be volume become if the system was cooled to 25°C?

Solution: if you are inclined to just divided 4.4L by 2 because the temperature is being halved, you would be wrong -- not having converted to°K first. Don't make this mistake on the exam. Instead we convert the temperatures to degrees Kelvin and then use the relationship in the above graphic or in particular (4.40 L/323 °K) = x /298°K

Problem: 5.0 L of the gas is collected at 100°K and then the gas is permitted to expand to 20 L. What would be the new temperature that would be required in order to maintain the same pressure in accord with Charles's law?
Ideal Gas Law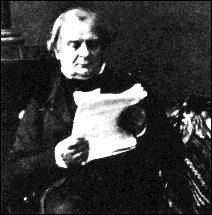 3aThe ideal gas law was described first by Clapeyron (above). The derivation of this law follows from statements of the six gas laws, represented in the following way:

PV = k1

V / T = k2

P / T = k3

V / n = k4

P / n = k5

1 / nT = 1 / k6

3aThe k values in the above expressions and different subscripts, indicating different values; however, multiplying all these terms together results in the following expression: P3V3 / n3T3 = k1k2k3k4k5 / k6 . Taking the cube root of k1k2k3k4k5 / k6 results in a constant called R. The units for each of the k values are k1 = atm-L; k2 = L/K; k3 = atm/K; k4 = L/mol; k5 = atm/mol and 1/k6 = 1/mol-oK. The overall unit following the taking of the cube root is L-atm/mol-K (liters atmospheres per mole degree Kelvin) and taking the cube root of the expression P3V3 / n3T3 = k1k2k3k4k5 / k6 gives us this form PV /nT = R or rearranging to obtain the more common form of the equation, PV = nRT. One approach to obtain numerical value for R is as follows:

Consider we have 1.000 mole of a gas at standard temperature and pressure (STP). One mole of a gas will have the volume of 22.414 L (in most calculations we use 22.4 L, but in this case will use the more precise value) 22.414 L represents the molar volume which is the volume of any gas at standard temperature and pressure. Now we will substitute in the PV = nRT expression the following values-- (1.000 atm)* (22.414 L) = (1.000 mole)* (R) *(273.15 oK). Solving for R results in the following number 0.08206 L-atm/mol-K. The value of the "gas constant" depends on units -- so that representing the gas constant in terms of Joules we get 8.3145 Joules/mole-K. For our calculations we will use the 0.08206 L-atm/mol-oK value.

3aExamples

Problem: It is observed that 2.1025 g of a gas occupies 2.85L. at 22.0°C and a pressure of 740.0 mmHg. The question is how many moles of the gas is represented. You are going to use the above value for the gas constant and recall that its units are L-atm/mol-oK, we now know that in our calculations we have to represent pressure in terms of atmospheres, not mmHg even though we've been provided the pressure in those units. Accordingly, the first step is to convert 740.0 mmHg to to its atmosphere equivalent.

Solution: the first and then is to convert to atm as follows (740.0 mmHg / 760.0 mmHg/atm or 0.9737 atm. We will use this value which is given to four significant figures. Substituting this value for pressure into the equation we obtain (0.9737 atm) (2.850L) = (n) (0.08206 L atm/mol-oK) (295.0°K) or 0.1146 mol..

Molar mass: We may wish to calculate the mole or mass which we can now do given that we know how many moles of gas are present. The molar mass is represented as grams per mole. Since we know the number of grams was 2.1025 g which corresponds to 0.1146 moles, the mole or mass would be 18.34g/mol.

Ideal gas Law: PV = nRT

where P is the pressure

V is the volume

n is the number of moles

By definition, a mole which is abbreviated often mol is the amount of the material whose mass in grams is numerically equal to the molecular mass of the substance. An example: the molecular mass of oxygen gas is 32; therefore, a mole of oxygen gas is 32 g. (Oxygen molecules are diatomic, O2, ,which means that each molecule consists of two atoms, each with an atomic mass of 16.) Avogadro's principle, which we will consider later, indicates that a mole of any gas contains the same number of molecules, Avogadro's number which is equal to or, using scientific notation, 6.02 x 1023 molecule/mole. [6.023 x 1023 molecule/mole is the same as 6.023 followed by 23 zeros molecules/mole--a pretty big number!] The actual definition, historically, comes from carbon-12. Carbon 12 is a common carbon isotope (carbon 14 is an example of a radioactive carbon isotope which is used in carbon-dating). Along these lines, "4the mole is the amount of a substance of a system that contains as many elementary entities as their atoms in 0.012 kg of carbon-12." Here are some molecular masses:

molecular hydrogen, H2, molecular mass in g/mole = 2.

helium, He, molecular mass in g/mole = 4

water vapor, H20, molecular mass in g/mole = 18. Note how we get the number 18 -- from the periodic table we see the atomic weight for oxygen is 16 and the atomic weight for a hydrogen atom is 1 -- therefore we add 16 + 1 + 1 = 18.

molecular nitrogen, N2, molecular mass in g/mole = 28 -- each nitrogen atom contributes 14

molecular oxygen: O2, molecular mass in g/mole = 32 -- each oxygen and contributes 16

Argon, Ar, molecular mass in g/mole = 40.
| | | | |
| --- | --- | --- | --- |
| Variables allowed to change | Variables held constant | Resulting relationship | Formal designation |
| pressure and volume | number of molecules and temperature | P1V1 = P2V2 | Boyle's Law |
| volume and temperature | number of molecules and pressure | V1/T1=V2/T2 | Charles' Law |
| pressure and temperature | number of molecules and volume | P1/T1=P2/T2 | Amonton's Law |
| number molecules and volume | pressure and temperature | V1/n1=V2/n2 | Avogadro's Law |
| pressure, volume, & temperature | number of molecules | P1V1/T1=P2V2/T2 | Combined Gas Law |
| pressure, volume, temperature & number of molecules | -- | P1V1/n1T1=P2V2/n2T2 | Ideal Gas Law |

2Gaseous Equation of State Calculator
(courtesy of Dr. Fred Senese, General Chemistry OnLine : http://antoine.fsu.umd.edu/chem/senese/101/gases/)
1Basic Physics and Measurement in Anaesthesia, Davis, P.D., Parbrook, G.D. and Kenny G.N.C, 4th Edition, Butterworth Heinemann, pp 2-3, 1995.

2Dr. Fred Senese, General Chemistry OnLine

3Jones, E.R. and Childers, R.L, "Gas Laws and Kinetic Theory" in Contemporary College Physics Addison-Wesley, Reading, Massachusetts, 1993, p 281.

3aPark, John L. "The Kinetic Molecular Theory of Ideal Gases

4Jones, E.R. and Childers, R.L, "Gas Laws and Kinetic Theory" in Contemporary College Physics Addison-Wesley, Reading, Massachusetts, 1993, p 325-346

5on-line definition, Newton

6Glenn, D.M and Angel, J.M, "Peripheral Nerve Blocks" in Anesthesia Secrets, 2nd editions, James Duke, editor, Hanley & Belfus, Philadelphia, p. 367, 2000.

7Dhother, S, "Bier Block" in Peripheral Nerve Blocks: A color atlas, Jacques E. Chelly, editor, Lippincott Williams & Wilkins, Philadelpha, pp. 121-123, 1999